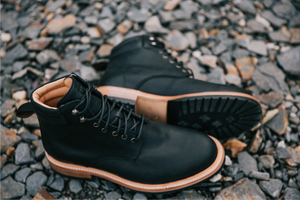 GOODYEAR WELT - Why it matters...
The Heritage Method of Shoemaking
Our primary goal as bootmakers is to practice & preserve heritage methods of shoemaking. While most footwear brands have replaced quality with quantity, we've doubled down on using the best techniques with the best materials.
Since its invention in the late 1800s, and to this day, the Goodyear Welt is still the most durable method of shoe construction at scale.
"They don't make 'em like they used to." Fortunately for you, we do.
What is a Goodyear welt?
First we should explain what a welt is. The welt is a strip of leather about an inch wide seen wrapping around the upper of a boot. The welt connects the upper leather to the insole & sole of the boot.
With the Goodyear welt construction method, the welt is sewn to the upper & the insole materials first. Then, the protruding part of the welt is stitched to the sole of the boot, leaving a visible stitch around the upper leather (this stitch can be seen from the outsole if the sole isn't covered by a rubber or foam tread).       
Tried & Tested
All our boots are built to last, using a GYW made of premium veg-tanned leather. Like the wheels on your car can get new tires when the tread wears down, so too can our boots be resoled many times over when the rubber wears down.
Our boots are an investment in your feet.
We're obsessed with improving the comfort of a boot, without sacrificing its durability or heritage construction. We revere the past while adding a touch of modern only where necessary. So we added our CloudCush™ Comfort system inside the boot, without losing the longevity of a GYW.
To read more about Resoles - click here.
Boots with Goodyear Welt Construction