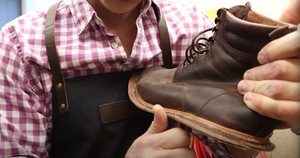 The Resole Process
All of our boots are built to last. This means we use premium leathers for the upper and even thicker veg-tanned leather for the welt, midsole, and outsole.
Since the bottom of your boots see the most use, normal wear & tear will cause the outsole tread to wear out. Just like the tires on your care, your soles will need to be replaced from time to time.
Having your boots resoled lets you continue wearing your favorite boots for many years to come.
Local Resoles
Support your Local Cobbler. The vintage choice. We highly recommend finding a trusted shop near you as a long-term investment in your boots and your feet. To ensure many years of use, your cobbler can will provide professional care for seasonal tune-ups, cleaning, conditioning, and eventually a resole.
If you don't already know of a reputable shop near you, the best way to start is simply searching "Cobblers near me" in Google maps. Check out what's around you, read the reviews to get a feel for which shop you wanna try out. It's worth your time, just like having a trusted auto shop for your car.
Never been to a cobbler before? Read our post about what to expect & what to say.
Online Resoles
We've partnered with a few trusted and respected cobbler companies with the highest reputations in footwear refurbishment to perform resoles for our customers. All work is done by hand by expert craftsmen to rebuild your boots to their best condition.
If you don't have local access to a cobbler, we recommend the following mail-in options you can start online; Potter & Sons / Nu Shoe / Cobblers Direct
Sole Choice
Depending on the boot you have, it can be a little different.
Our Shiloh, Fairfax, and Century boots can have the heel tread replaced without touching anything else.

The Kern boot would be a full sole replacement as it's one single piece.

We recommend a mini-lug rubber tread for the Shiloh/Fairfax, a studded sole for the Century (i.e. Dainite style), and a wedge sole for the Kern.

However, you can choose a different outsole style to fit the way you intend to use your boots - like maybe a lighter sole if you're doing a lot of walking, or a thicker tread if you're using them for motorcycling. Either way you go, you'll be feeling top-notch with some fresh treads on your boots!